I drove past Gyeongbok Palace with my dad a while back and a thought that never really occurred before hit me all the sudden. Me being somewhat of a history nerd, wondered what the palace would look like today if the Japanese Government-General of Chosun building was still standing, and why it isn't.
For those who don't know, the Government General Chosun building (조선총독부 청사) was used by the Japanese during the occupation as their headquarters for oppressing Korea. It was where they made decisions to better shit on the Koreans. It didn't help that it also sat right within the walls of Gyeongbok Palace to both symbolically and literally stomp on Korea's national autonomy. Understandably, Koreans saw this building as a symbol of Japanese oppression.
From the sky, one could see the building was shaped into the Chinese character for sun (日), which stands for Japan. So yeah, Koreans were pissed off about that.
During Kim Youngsam's presidency, the building was demolished as to close that dark chapter of Korean history. I was a kid during that time but I do remember there was some debate over whether it should be done or not. Some people obviously saw it as a symbol of oppression while others saw it as an important reminder of history.
According to the
wiki article on the building
, it has had a lot of historical significance after World War Two. It is where American forces accepted the surrender of Japanese forces in Korea. Syngman Rhee was sworn in on its steps. The
Korean wiki
also says that DPRK forces during the Korean War used it as their administrative HQ. The ROK government later used it for its National Assembly and later as a museum.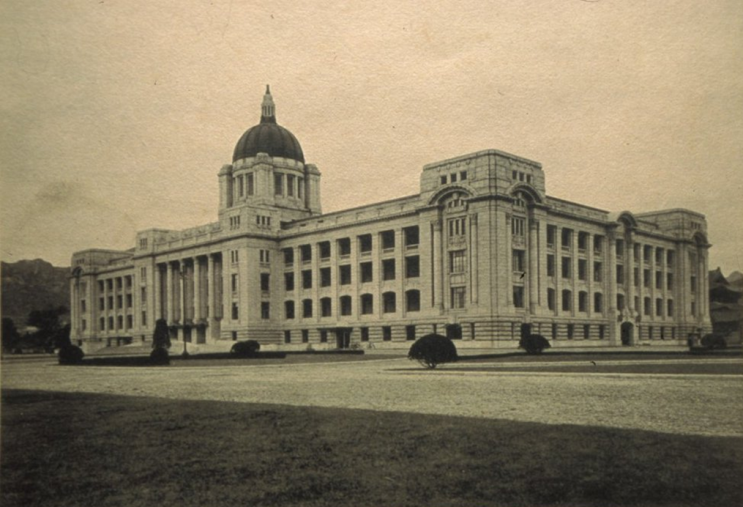 Japanese General Government Building. Source
More pictures of the building during the Occupation and it's demolition in 1995.
Nevertheless, the demolition proponents won and the building was destroyed. Perhaps people couldn't bear to have such a painful reminder staring at them in the face from one of the greatest historical monuments of Korea's great dynasties. But that made me think, is the palace really that great?
We destroyed a historical reminder, even perhaps a monument, because it was made by our oppressors. I obviously haven't lived during the time, but I can't imagine living under a Chosun monarch would be so much better for the average Korean. It was a society with slaves and a class system where one could be shitted on simply for being low born. The government at the time had institutionalized forced labor as a form of taxation. These great palaces we admire today were built on the backs of poor peasants who were forced into labor. These same peasants were also forced to into military service when their country needed them to die, which by the way, is the same thing the Japanese did during the occupation.
One may say, that's how it was back then. If we are so willing to forgive our ancestors for shitting on our ancestors, why aren't we granting the Japanese the same generosity? Can I say, "That's just how it was back then" to shrug off Japanese and Nazi atrocities?
So I have to ask, what's the difference? Why are we visiting these wonderful palaces symbolizing oppression but had to tear down another building because it symbolized oppression? The only difference I can think of (from a Korean perspective) is that one is made by "Koreans" and the other was foreign. Worse, it was Japanese. I can't think of a logical argument for celebrating buildings made on the whims of kings while demonizing another for not being Korean.
I'm not arguing that these palaces be torn down. I'm just pondering the hypocrisy of it. When I see these palaces, I think of all the sweaty, hungry peasants who were forced to work their asses off to build them. As someone who appreciates history, I admit I like looking at them, but I would've enjoyed walking around the General Government building as well.
I talked to my dad about these thoughts on the drive and he disagreed with me, but he couldn't give me an answer why.